After being in business for over 50+ years, we've collected a lot of memorable stories that have become an integral part of our legacy. Stories are what get passed down from generation to generation, and often highlight experiences with the twists and turns of life. While the impact of a gesture, advice, a job offer or mentorship is never quite understood in the moment, there is a ripple effect–like the wave that can be seen when a pebble is thrown into a pool of water, and that ripple can change the trajectory of someone's life.
We don't reflect on our impact nearly enough, so we thought that this feel-good-story that has the potential to influence future generations, is worth sharing with you.
Giving Back
This story starts with one of our valued team members, Dave Barratt (pictured above in the dark baseball hat).
Dave Barratt is our Product Innovation Manager, and also an overall smarty-pants within our R&D department. Dave has been involved with the FIRST Robotics Community (For Inspiration and Recognition of Science and Technology) since 2007. In the beginning, he participated as a competitor, and later returned as a mentor.
What is FIRST?
FIRST combines the excitement of sport with the rigors of science and technology. High school students showcase their design and engineering skills and then compete in Canada's largest high school robotics competition. With strict rules and limited resources, the teams have raised funds, designed a team brand, honed teamwork skills, and built and programmed robots to perform prescribed tasks against a field of competitors. Don't miss the fleet of the most advanced intelligent robots and robotics teams from across Ontario. All FIRST Canada events are open to the public and free.
In his own words, FIRST Founder, Dean Karmen explains why he started FIRST:
"To transform our culture by creating a world where science and technology are celebrated and where young people dream of becoming science and technology leaders."
We couldn't agree more and also realize that younger generations need exposure to possibilities within STEM (Science, Technology, Engineering and Mathematics), and we can offer just that!
When Dave joined the Crystal team back in 2012, he went above and beyond to educate us at Crystal about the benefits of the FIRST program for youth. His excitement inspired us to begin sponsoring a local robotics team at North Albion Collegiate Institute – Team 2935. NACI was a local school close to where Dave grew up, and he knew they needed a lot of help. Impact can come from financial contributions, but also investing time and energy can be priceless. Crystal continues to be a proud sponsor of Team 2935 today.
Through this sponsorship, we've had the pleasure of seeing the development of dozens of youth that have been a part of team 2935.
One of those youths is Ajay (pictured on the far right of the photo below).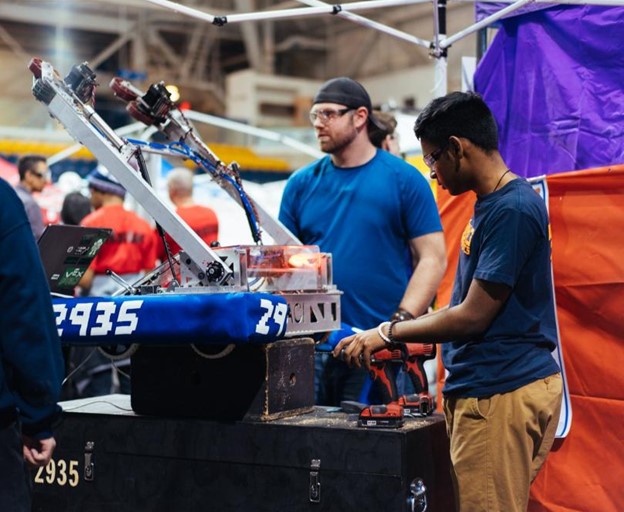 Ajay joined the FIRST community in grade 8, a year before high school, which is when students can join the FIRST Robotics Program. That was seven years ago. Being on Team 2935, with and with Dave as a mentor, he found what to focus on as he applied to university. He has just finished his first year at Western University in London, Ontario where he is studying Mechatronics Engineering–a combination of mechanical and electrical programming.
When Ajay heard that Crystal Fountains was looking for summer interns this year, he jumped at the opportunity to become a part of our team of interns, with the intention of giving back to Crystal.
Today, Ajay and Dave are teaming up again, but this time in our R&D department leading the product testing for a new LED lighting project that will be released later this fall.
Having Ajay come full circle through the FIRST program, building a mentor – mentee relationship with Dave, and now giving back by interning at Crystal is a story we cherish and are proud to share. We are inspired by Ajay's development, have thoroughly enjoyed watching his success unfold, and are happy to have him with us during his post-secondary journey. We can't wait to see where all of this takes Ajay in the future.
We can't think of a better way to invest in the future of STEM and youth who love it, than to support those who feel called to it.
If you have kids who might be a fit for STEM and the FIRST programs on offer for kids of all ages, please visit www.firstroboticscanada.org