Creative and innovative design is a cornerstone of our work and collaborations
"Public water features serve a practical purpose as well as entertain and are important to society's collective psychology. We, as fountain specialist designers, are always looking for the minutiae of the fountain, but if you watch how people interact with water there is such an appreciation of its sheer magic. Kids jump up and down on a scrim feature or splash in a fountain, while adults close their eyes to breathe in the surrounding clean air or wave their hands to capture a fog cloud. Fountains are definitely good for the soul."
With over five decades of experience in the commercial water feature industry, collaboration in designing captivating, sustainable, world-class water features is at the core of what we do.
Whether you're designing a traditional, modern, interactive, or static feature, we can help you design any water feature from vision to completion. Our WATERlab™ simulation and test-pool mock-ups cover all key design considerations, helping you to avoid delays and costly mistakes.
What makes our design process unique
Your vision is where our collaborative design process starts. Our team of designers and engineers use their expertise to work with Architects, Landscape Architects, Aquatic Designers, and contractors in order to create spaces that people will engage with and enjoy. There is no set way for you to collaborate with us. We can be involved at any part of the design journey, from the first concepts to tender drawings.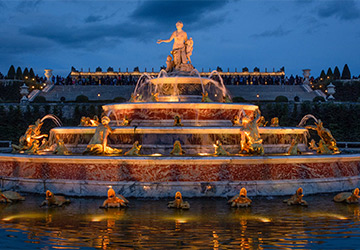 Extensive history and global experience
Through relationships with a network of international and North American partners, we understand that regional and cultural differences can influence each project. Our extensive work spans Europe, the Middle East, Northern Africa, and Southeast Asia, making us a globally recognized leader in the water feature industry. With many years navigating both AIA and RIBA design standards, we are ideally positioned to help our clients create successful projects.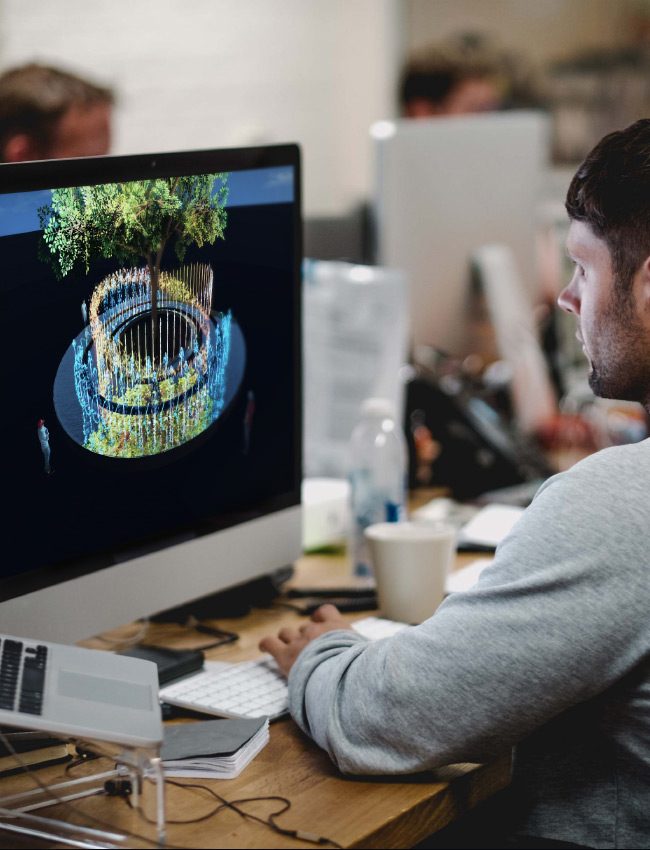 WATERlab™ is the industry's first physics-based 3D simulation, design, and programming control suite. WATERlab™ CREATE allows designers to conceptualize and create digital prototypes of their water feature through the design process. WATERlab™ CONTROL is the control and diagnostic center of the physical water feature. With WATERlab™, a water feature's design can be imagined in advance and then deployed directly onsite with the press of a button.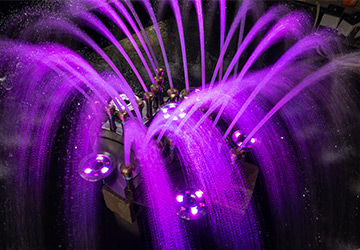 Mock-up facilities and test pools
A physical mock-up can be key to a project's success while collaborating with designers globally. Custom-designed water features often include unique water and light expressions that require physical mock-ups to explore feasibility. We recommend phased mock-ups: first in-house, then onsite. In combination with WATERlab™, this approach allows our team to study water and LED light expressions and discover new opportunities for real-world solutions.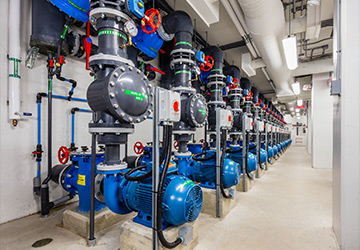 We have been around long enough to know that there is no magic formula when it comes to water feature budget determination. We evaluate each and every design on its own merit recognizing that custom designs have many different variables in determining supply and installation values. We also work with our partners to provide meaningful maintenance feedback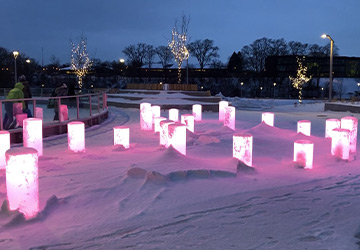 Detailed Design Considerations
Our team understands that a successful water feature outcome hinges on many factors. Water massing, light placement, emotion, movement, spatial understanding, auditory cues, sustainability and multi-season transformation all have a role to play.
World Voices at the Burj Khalifa - Dubai, UAE
Imagined by international artist Jaume Plensa, "World Voices"  was designed to express the "diversity of our global society and a celebration of life." Composed of 196 cymbals (representing all of the countries of the world) and suspended onto rods anchored at the bottom of two pools…
"When I was given the opportunity to lead the design and development process of a community plaza for our community I always knew it had to have a truly distinctive and dynamic water feature and fountains. That process was made so much easier by choosing to work with Crystal Fountains as the designer, and provider of all the fountain equipment for our project. Working with Robert Mikula and Wissam Galayini and the staff at Crystal Fountains was a pleasure from day one to a truly successful completion. "
"Designing a quality project is hard work. When working with water, you need a partner that is willing to provide design vision and technical expertise. That's why we, Design Collective, use Simon Gardiner and the team at Crystal Fountains. The design collaboration is great, the product is excellent and we have fun bringing ideas to life together!"
"I had the opportunity to visit the fountain that bears my name last week. The fountain is very special to me, but more importantly, I hope it brings joy to the residents of Kansas City. I understand you and your team went above and beyond your expected responsibilities during your visit to ensure it was operating optimally, for which I am grateful.

You should be proud of your outstanding work! Once again, Thank you."
"The mission was accomplished with a thoughtful design that captures interest by day and used unique programming to turn these cascades into a compelling, varied water show after dark. The colors of the stone slabs and the texture of the water flowing down across their varied surfaces command tremendous visual interest, along with sounds that are a tuneful white-noise antidote for nearby traffic"
"The product quality of everything Crystal Fountains manufactures is the highest of any we've seen and used in the marketplace. Left entirely to us, we would never use anyone other than Crystal Fountains."
Product and Technical
Support
We stand behind you and your water feature project. We offer product support with fast turnaround time with both onsite and remote services available.
WATERlab™
The industry's first physics-based 3D simulation, design and programming control suite.