COLOR SOURCES
Pure and non-aerated water relies on its environment for color. The material finishes within a water feature will impact its color as will the context (material. colors, ambient light) interacting with the water feature lighting.
COLOR TEMPERATURE
Defined by the warmth or coolness of the light source. Some white light technologies are inherently warmer or cooler while LED's are available in a variety of colour temperatures.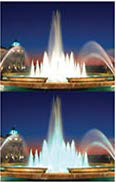 WHITE VS. COLOR
White lighting is particularly effective at evoking an elegant character. Multi-colored fountains are popularized with the advent of LED lighting and create a more dynamic effect.

COLOR TYPES
Different colors require more lighting intensity to achieve the desired effects. Amber and turquoise require 50% more intensity than clear lights. Red requires 100% more intensity while blue and green require 250% more intensity than clear lights.

AMBIENT LIGHT
Consider any continuous background illumination (natural or artificial) that cannot be controlled. A higher ambient light situation may require a more intense lighting solution.
MOUNTING DEPTH
The challenge with submerged lighting is that it is dispersed through the water. More lumens are required to achieve the same effect as a dry architectural solution.
INFRASTRUCTURE
It's important to consider the physical requirements for lighting fixtures early in the design process.
INDOOR/ OUTDOOR
Each presents different challenges – lamp life, ambient light, lighting conditions.